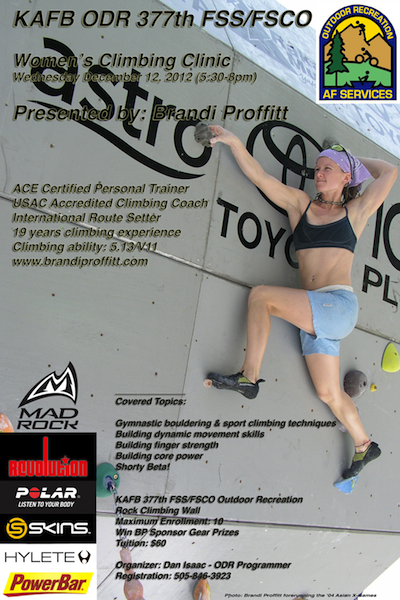 Join me on December 12, 2012 at the ODR Climbing Wall for a women's climbing clinic! This clinic is ideal for women interested in improving their bouldering and sport climbing ability by expanding their technical skills and learning to build overall body power. The focus will be on training techniques particular to the strengths and weakness associated with women's physiology. We'll target specific technical skills that commonly challenge women including dynamic movement and core power. Participants will learn strategies for creating a personalized pre-climbing warm-up routine, as well as methods for building body power, finger strength and route-reading skills. This clinic is open to female climbers of all abilities. My sponsors will provide gear prizes for all participants!
Details:
Wednesday December 12, 2012 @ 5:30p-8p
KAFB ODR Climbing Wall
Cost: $60
Limit 10 participants
Contact ODR Programmer Dan Isaac at (505) 846-3923 to sign up.
Feel free to contact me with any questions!