News-Archive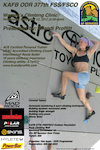 Join me on December 12, 2012 at the ODR Climbing Wall for a women's climbing clinic!

Check out this great new product from PowerBar. I recently began using it, and I love it!
Join Brandi Proffitt and Carolyn Parker for a bouldering clinic on Wednesday, October 20th, 2010 – Ladies Night at Stone Age!
The TRX Suspension Trainer is the original bodyweight-based portable training tool that builds strength, balance, flexibility and core stability for people of all fitness levels.
While athletes do so much to take care of their bodies, the sports in which they engage can be very fatiguing for both the body and mind. Yoga is an effective way to improve health, manage injuries and restore overall balance for those of us who demand so much of ourselves.
When we're short on time in the gym, many of us decide to skip the warm-up in an effort to get through our workout faster … here are some reasons why your warm-up is so important.
Brandi is proud to announce her participation in a new program for AARP members designed to address the health and fitness needs of older adults.
Good news for older adults: part of the prescription for a healthier, better retirement is exercise. Physical activity protects against declining health and fitness, and adds years to your life.
See Brandi climbing at a local New Mexico crag on MVM.com. Momentum Video Magazine recently featured Brandi Proffitt and Timy Fairfield at Big Block, near Albuquerque, NM.
This survey of 3,000 ACE-certified fitness professionals points out the biggest mistakes made in the gym.