Brandi Proffitt Fitness offers personal training and private climbing coaching in Albuquerque, NM. Services include general health & fitness training, weight loss, functional training and sport-specific coaching. Junior training camps, adult fitness and climbing clinics, and women-specific clinics are offered outside of New Mexico as well.
News & Events
Women's Climbing Clinic at Kirtland AFB!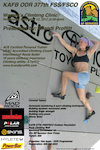 Join me on December 12, 2012 at the ODR Climbing Wall for a women's climbing clinic!
Continue Reading...
New Protein Powder from PowerBar!

Check out this great new product from PowerBar. I recently began using it, and I love it!
Continue Reading...
Women's Bouldering Clinic at Stone Age!
Join Brandi Proffitt and Carolyn Parker for a bouldering clinic on Wednesday, October 20th, 2010 – Ladies Night at Stone Age!
Continue Reading...
Brandi's Equipment Recommendation: TRX Suspension Trainer
The TRX Suspension Trainer is the original bodyweight-based portable training tool that builds strength, balance, flexibility and core stability for people of all fitness levels.
Continue Reading...
Yoga for the Athlete
While athletes do so much to take care of their bodies, the sports in which they engage can be very fatiguing for both the body and mind. Yoga is an effective way to improve health, manage injuries and restore overall balance for those of us who demand so much of ourselves.
Continue Reading...
Healthy Recipe of the Week
Check back each week for a new recipe.
Visit the archives for past recipes.